PRCC Sold More Than 230 Million Pounds of Baled PET Last Year
Plastic Recycling Corporation of California (PRCC) improves the quality of the environment and reduces solid waste by recycling PET (polyethylene terephthalate) beverage containers. We increase public awareness and recycling rates for PET beverage containers, and ensure stable end-use markets for all PET collected in California, and increase the value of PET while reducing the costs of its collection.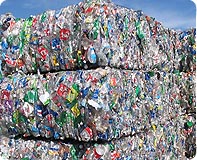 The Lifecycle of a Plastic Bottle
Do you sell PET beverages in CA or make PET beverage bottles for sale in CA?
We encourage you to learn more about the importance of being a member of PRCC!
Please email or call us at 707.935.1997 with your mailing address
and we will send you more information about the value of PRCC.
Sellers
PRCC buys heavy and light PET loads. Review PRCC's PET Container Specifications to learn more.
Click below for PET seller info.
Buyers
Rigorous quality specifications and regular inspections ensure that our PET bales are the best quality available.
Click below to access our buyer forms and FAQ page.
Committed to You and the Environment.
PRCC is committed to improving the quality of the environment and to reducing solid waste
through the recycling of polyethylene terephthalate (PET) beverage containers.